2018 Artist Awards
Posted November 12, 2018
BEST OF SHOW
Aaron Hequembourg, Mixed Media, Renoir 2
AWARD OF DISTINCTION
Gloria McRoberts, Fiber/Leather, Rodin 10
Brooks Barrow, Sculpture, Turner 12
Christina Smith, Drawing, Miro 5
Don McWhorter, Ceramics, Picasso 29
Michael Paul Cole, Photography, Dali 2
AWARD OF EXCELLENCE
Michael Bond, Printmaking/Graphics, Warhol 6
Casey Ginn, Ceramics, Warhol 24
Annette Hammer, Painting, Miro 14
Tim Peters, Ceramics, Picasso 31
Matthew Hatala, Wood, Picasso 22
AWARD OF HONOR
John Kellum, Ceramics, Picasso 9
Lynn Fisher, Ceramics, Turner 10
Kreg Yingst, Printmaking/Graphics, Picasso 38
Jack Pine, Glass, Darby 2
Jean Yao, Fiber/Leather, Renoir 3
AWARD OF MERIT
Kate Morgan, Mixed Media, Warhol 25
John Flemming, Fiber/Leather, Darby 13
Karen Libecap, Painting, O'Keeffe 2
Paige Whitcomb, Photography, Warhol 13
H.C. Porter, Mixed Media, Miro 8
JUDGES' AWARD
Mark & Carol Reynolds, Sculpture, Picasso 18
Marek Majewski, Jewelry, Turner 11
Randal Spangler, Drawing, O'Keeffe 4
Linda Jones, Jewelry, Picasso 41
Julie Jerman-Melka, Jewelry, Rodin 18
GGAF International Artist Abigail Nnaji on WUWF
Posted November 02, 2018
WUWF's Sandra Averhart talks with Great Gulfcoast Arts Festival 2018 Invited International Artist Abigail Nnaji from Nigeria.
2018 Poster Design Selected
Posted September 07, 2018
Michelle Corley's worked for 23 years as a graphic designer and art director in the advertising world. An internship during her studies at a small Louisiana college opened the door to life at an ad agency and she's never looked back. Throughout her career, she's worked in practically every facet of advertising design, from logo development to digital design and broadcast production. Winner of multiple industry awards, she currently works to use her powers for good as Art Director for Duncan McCall Advertising in Pensacola. She also serves on the board and handles design work for Choral Society of Pensacola.
While she's grateful her poster design was selected, Michelle's not quite comfortable being labeled an artist because at the end of the day she doesn't consider herself one. "I solve communication problems. Those talented people who allow the world to inspire them and then express that inspiration through their fingertips, a paintbrush, or the sharpened end of a pencil – they're the artists."
Born and raised in Louisiana, Michelle's called the Pensacola area home for 20 years.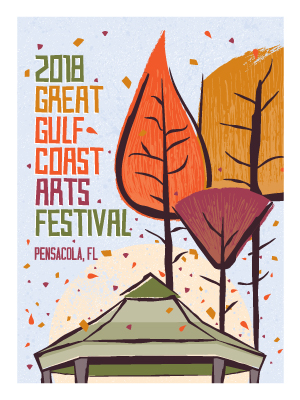 The design is turned into a limited-edition poster, t-shirts, and other items which will be available for sale at the festival. The poster and shirts have become local collector's items. The only way to get them is at the Festival.
2018 Invited International Artist: Abigail Nnaji
Posted August 08, 2018
The 2018 Invited International Artist is Abigail Nnaji, an artist from Abuja, Nigeria. Her style is influenced by the academic and constant exposure through cultural interactions. She believes that expression should not be restrictive, rather a freedom of exploration should be employed in the creative process.
2018 Emerging Artists Announced
Posted May 31, 2018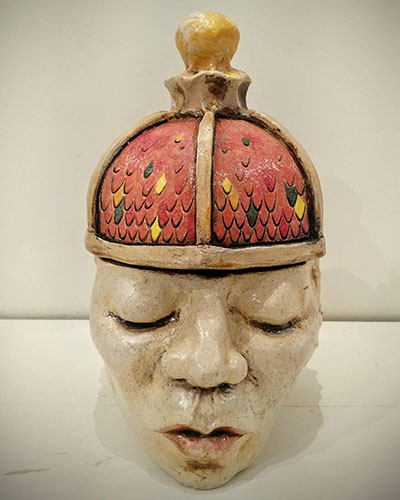 A ceramicist and a photographer have been chosen as the 2018 Great Gulf Coast Emerging Artists this year. James Amerson of Pensacola uses a combination of ceramic techniques to create his unique sculptures. Lawrence Lazare, also of Pensacola, is a landscape and street photographer whose works suggest the grandeur of nature and the role of the human within it.
The two artists will share a booth on O'Keeffe Alley at this year's Great Gulfcoast Arts Festival, Nov. 2-4.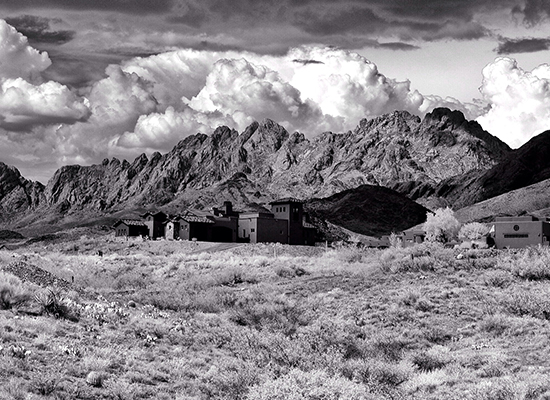 This is the third year for GGAF's Emerging Artists program. The program is designed to introduce new artists to the art festival scene. Each year, two artists from the Escambia/Santa Rosa County area are chosen to participate. GGAF waives their booth fee and provides the booth that they will share.
The two Emerging Artists also are required to make at least one presentation about their art at a school in either Escambia or Santa Rosa County.
2017 Artist Awards
Posted November 05, 2017
BEST OF SHOW
Harold Miller, Sculpture, Turner 8
AWARD OF DISTINCTION
Gloria McRoberts, Fiber/Leather, Rodin 11
Jodi Perry, Painting, Picasso 21
Thomas Dumke, Wood, Warhol 5
Vern Yan, Fiber/Leather, Warhol 12
Jon Smith, Painting, Dali 4
AWARD OF EXCELLENCE
Jeannie Maddox, Painting, Lewis 1
Don McWhorter, Ceramics, Renoir 5
Aaron Hequembourg, Mixed Media, Renoir 4
Guilloume, Sculpture, Warhol 31
Scott Hartley, Painting, Renoir 8
AWARD OF HONOR
Rosario Garcia, Jewelry, Darby 3
Nicario Jimenez, Mixed Media, Warhol 13
Steve Edgar, Fiber/Leather, Dali 9
Michael Bond, Printmaking/Graphics, Warhol 6
Janine Monroe, Painting, Miro 16
AWARD OF MERIT
Steven Olszewski, Sculpture, Picasso 25
Russell Grace, Photography, Dali 14
Mark Grosser, Jewelry, Warhol 9/10
Bobby Goldsmith, Drawing, O'Keeffe 5
Whitney Powell, Fiber/Leather, Picasso 4
JUDGES' AWARD
Mark & Carol Reynolds, Sculpture, Picasso 18
Randal Spangler, Drawing, O'Keeffe 4
Timothy Sullivan, Ceramics, Rodin 21
Jean Yao, Fiber/Leather, Renoir 3
John Kellum, Ceramics, Picasso 6
GGAF International Artist Yume Matsuo on WUWF
Posted November 01, 2017
WUWF's Sandra Averhart talks with Great Gulfcoast Arts Festival 2017 Invited International Artist Yume Matsuo from Waykayama , Japan. Reaching World Peace By Making Circles.
2017 Invited International Artist: Yume Matsuo
Posted September 18, 2017
The 2017 Invited International Artist is Yume Matsuo, an artist from Japan. Born in 1986, Yume began drawing in her early childhood. Yume's home state, Wakayama, is the sister state of Florida.