The 2023 Festival poster is by Lydia Adele Randolph, a full-time artist living in a remote area of North Alabama. She is inspired by Gauguin's violent use of color, Mary Cassatt's delicate and precise renderings, and Eakins' honesty. Lydia paints things from her life, relics, and ruins of our dwindling agrarian society, trucks, and equipment left to grow into weeds and trees. Things loved enough not to be discarded but no longer needed, left to be reabsorbed by the earth they once tended.
"I paint what I see, and when I can share that when someone else can also see the beauty of a thing otherwise thought of as junk, or a cow, a dead tree, a small creek—when I can communicate the magnificence of that, I feel like I've done my job as a poet and artist, a wandering fool left staring into the tide pools longer than is prudent or profitable."
Lydia has been in the Festival several times and won the 2022 Award of Distinction. Find her and her work at her booth, Turner 7, during the 2023 Festival. Her original artwork portrayed on the poster will be auctioned off during the festival. Visit the main Merchandise Booth next to the Gazebo for more information.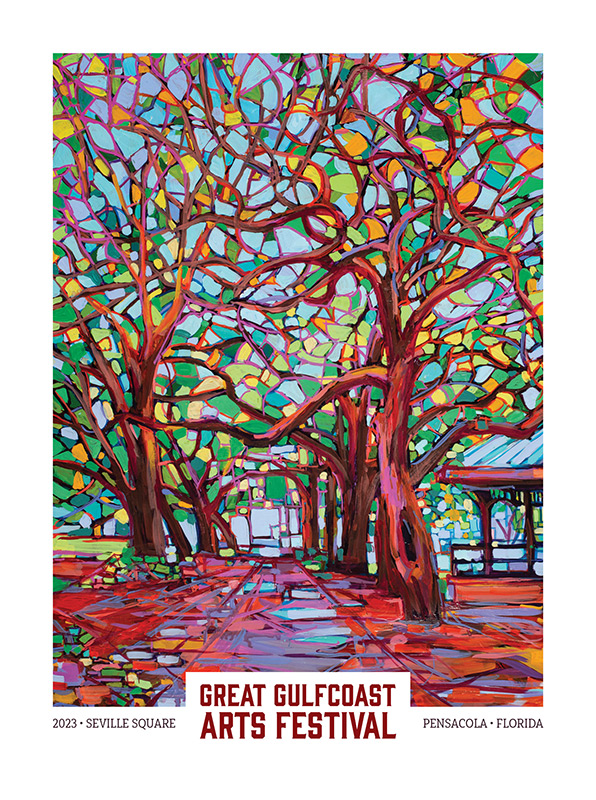 Each year, the Great Gulfcoast Arts Festival sponsors a design competition to select the official GGAF poster. The design is turned into a limited-edition poster, t-shirts, and other items which will be available for sale at the festival. The poster and shirts have become local collector's items. The only way to get them is at the Festival.