2018 Poster Design Selected
Posted September 07, 2018
Michelle Corley's worked for 23 years as a graphic designer and art director in the advertising world. An internship during her studies at a small Louisiana college opened the door to life at an ad agency and she's never looked back. Throughout her career, she's worked in practically every facet of advertising design, from logo development to digital design and broadcast production. Winner of multiple industry awards, she currently works to use her powers for good as Art Director for Duncan McCall Advertising in Pensacola. She also serves on the board and handles design work for Choral Society of Pensacola.
While she's grateful her poster design was selected, Michelle's not quite comfortable being labeled an artist because at the end of the day she doesn't consider herself one. "I solve communication problems. Those talented people who allow the world to inspire them and then express that inspiration through their fingertips, a paintbrush, or the sharpened end of a pencil – they're the artists."
Born and raised in Louisiana, Michelle's called the Pensacola area home for 20 years.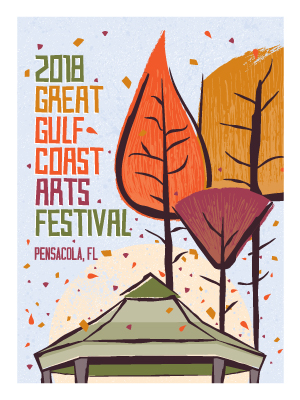 The design is turned into a limited-edition poster, t-shirts, and other items which will be available for sale at the festival. The poster and shirts have become local collector's items. The only way to get them is at the Festival.
Art show artist applications are open now. The deadline is May 31. Cash prizes totaling $25,000 will be awarded. The three-day, juried art show draws thousands of visitors and more than 200 of the nation's best painters, potters, sculptors, jewelers, graphic artists, craftsmen and other artists. Get your spot. Details…
Applications are open for the GGAF Emerging Artists program. This program seeks artists who have limited experience participating in arts festivals to give them guidance in what is involved in being in an arts festival. Two artists will be chosen to participate in this year's festival. GGAF will waive fees for the two chosen artists and will provide a mentor to help guide them through the process. Details…
Best of Show, Awards of Distinction, Awards of Excellence, Awards of Honor, and Awards of Merit winners from the previous year's festival are exempt from the jurying process for next year's Festival.
WUWF's Sandra Averhart talks with Great Gulfcoast Arts Festival 2018 Invited International Artist Abigail Nnaji from Nigeria.
The selected 2018 poster was designed by Michelle Corley. Michelle's worked for 23 years as a graphic designer in practically every facet of advertising design, from logo development to digital design and broadcast production.
The 2018 Invited International Artist is Abigail Nnaji, an artist from Abuja, Nigeria. Her style is influenced by the academic and constant exposure through cultural interactions. She believes that expression should not be restrictive, rather a freedom of exploration should be employed in the creative process.
The Great Gulfcoast Arts Festival, in partnership with Artel Gallery, announce the artists selected for the Emerging Artists grant program.
Harold Miller was awarded best of show for his sculpture. See the complete list…