2018 Poster Design Selected
Posted September 07, 2018
Michelle Corley's worked for 23 years as a graphic designer and art director in the advertising world. An internship during her studies at a small Louisiana college opened the door to life at an ad agency and she's never looked back. Throughout her career, she's worked in practically every facet of advertising design, from logo development to digital design and broadcast production. Winner of multiple industry awards, she currently works to use her powers for good as Art Director for Duncan McCall Advertising in Pensacola. She also serves on the board and handles design work for Choral Society of Pensacola.
While she's grateful her poster design was selected, Michelle's not quite comfortable being labeled an artist because at the end of the day she doesn't consider herself one. "I solve communication problems. Those talented people who allow the world to inspire them and then express that inspiration through their fingertips, a paintbrush, or the sharpened end of a pencil – they're the artists."
Born and raised in Louisiana, Michelle's called the Pensacola area home for 20 years.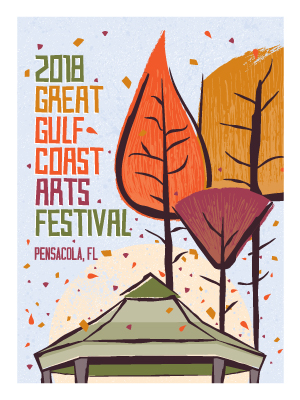 The design is turned into a limited-edition poster, t-shirts, and other items which will be available for sale at the festival. The poster and shirts have become local collector's items. The only way to get them is at the Festival.
It is with deep sadness and heavy hearts that we announce the cancellation of this year's Great Gulfcoast Arts Festival. The decision to cancel the Festival is a tough one, but with COVID-19 cases on the rise, the health and safety of arts patrons, volunteers, artists, sponsors, vendors, and festival participants must be our top priority.
The winners of the 2020 GGAF Children's Poster Contest have been announced. Prizes will be awarded November 7, 2:00, at the Children's Stage in Bartram Park. The contest was open to Escambia and Santa Rosa county children ages 4 – 11. This year's theme is "Home Sweet Home."
The Festival selected Lara Sophie Benjamin, a painter from Nicosia, Cyprus, as this year's Invited International Artist. However, due to the uncertainties around the COVID-19 pandemic, we've decided to postpone Lara's visit until the 2021 festival. We hope to see her then.
Best of Show goes to Don McWhorter, Ceramics. Find his booth at Picasso 29. See the complete list of award winners…
Sandra Averhart talks to the 2019 Great Gulfcoast Arts Festival Invited International Artist Esmeraldo Abalde from the Philippines.
The 2019 Festival poster is based on a painting by Emily Woodson, an illustrator, graphic designer, and painter living in Pace, Florida. She has a BFA in Illustration Kansas City Art Institute. Emily is part of the marketing team at Levin Rinke Realty.
The 2019 Invited International Artist is Esmeraldo Abalde, an artist from Cagayan de Oro City, Philippines. His style is influenced by his experiences, culture and the world around him. He paints a variety of subjects from representational to abstract, to express his deeper appreciation of the beauty around him.
The Great Gulfcoast Arts Festival ranked #9 in the Sunshine Artist magazine Best Art Shows list. Each year this Wisconsin-based magazine announces their 200 best art shows based on the categories of Fine Art & Design and Classic & Contemporary Crafts. This year, for the first time, Great Gulfcoast Arts Fest broke into the top ten in the Fine Art & Design category.