Each year, the Great Gulfcoast Arts Festival sponsors a design competition to select the official GGAF poster. The design is turned into a limited-edition poster, t-shirts, and other items which will be available for sale at the festival. The poster and shirts have become local collector's items. The only way to get them is at the Festival.
---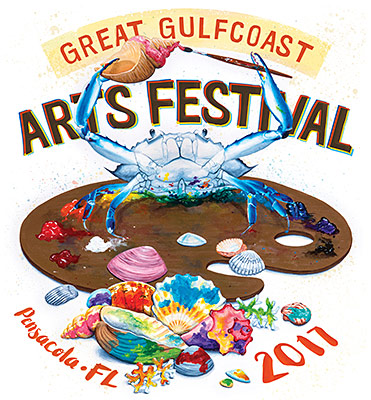 A design by Daniela de Castro Sucre was selected for the Festival Poster for 2017. Daniela was born and raised in Caracas, Venezuela. Daniela has been painting since she was 7 years old. She is currently studying Graphic Design at Pensacola State College and has been the recipient of numerous scholarships and awards. Daniela is proficient in realistic oil painting, but she considers herself a multimedia artist. Through her studies, Daniela now has a newfound interest for graphic design. She lives in Pensacola.
Poster Contest Call for Entries
Creative artists of all ages are encouraged to submit their designs. The winning artist receives a $1,000 cash award.