Each year, the Great Gulfcoast Arts Festival sponsors a design competition to select the official GGAF poster. The design is turned into a limited-edition poster, t-shirts, and other items which will be available for sale at the festival. The poster and shirts have become local collector's items. The only way to get them is at the Festival.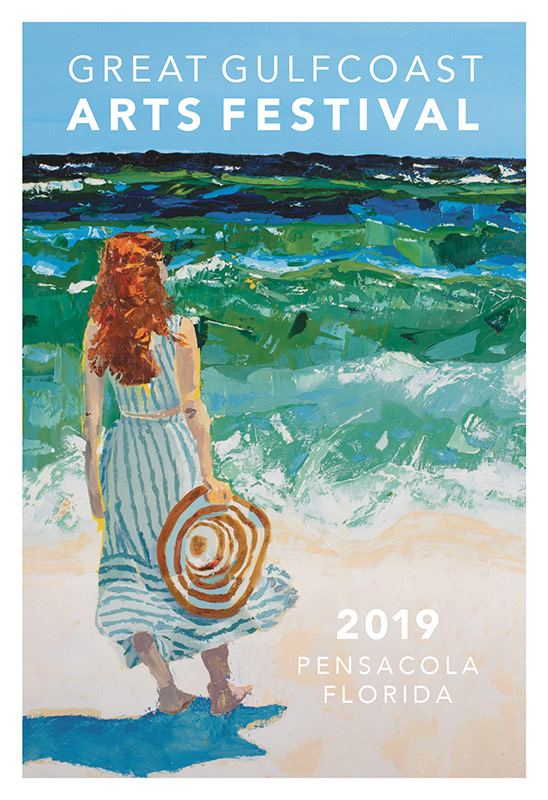 The 2019 Festival poster is based on a painting by Emily Woodson, an illustrator, graphic designer, and painter living in Pace, Florida. She has a BFA in Illustration Kansas City Art Institute. Emily is part of the marketing team at Levin Rinke Realty.
Artist's Statement:
My grandmother was an artist who fell in love with the Gulf coast. I grew up watching her paint incredible seascapes and every year, we went to the Great Gulfcoast Arts Festival together. She inspired me to further my creative skills at the Kansas City Art Institute where I graduated with my BFA in Illustration. I enjoyed every moment in KC but I simply couldn't live landlocked. Returning home with a passion for Pensacola and design, I've had the wonderful opportunity to be a member of the marketing team for Levin Rinke Realty.
In her final days, my grandmother said to me "I should have painted more" and I took that to heart. When she passed away earlier this year, I started doing plein air paintings of the shoreline that has captivated my family for generations. Every year she would tell me to enter this poster contest. I know she's looking down proudly to see that I finally did and my work was chosen to represent the festival we love!
Poster Contest Call for Entries
Creative artists of all ages are encouraged to submit their designs. The winning artist receives a $1,000 cash award.