2020 Children's Poster Contest
Posted June 12, 2020
The winners of the 2020 GGAF Children's Poster Contest have been announced. Prizes will be awarded November 7, 2:00, at the Children's Stage in Bartram Park. The contest was open to Escambia and Santa Rosa county children ages 4 – 11. This year's theme is "Home Sweet Home."
2020 Invited International Artist: Lara Sophie Benjamin
Posted June 05, 2020
The Festival selected Lara Sophie Benjamin, a painter from Nicosia, Cyprus, as this year's Invited International Artist. However, due to the uncertainties around the COVID-19 pandemic, we've decided to put off Lara's visit until the 2021 festival. We hope to see her then.
Lara draws subject matter from her everyday surroundings and finds significant resonance in ordinary sights and spaces. Lara is interested in their experiential nature, subjective and selective readings, and the light and the forms created within them.
2019 Artist Awards
Posted November 02, 2019
BEST OF SHOW
Don McWhorter, Ceramics, Picasso 29
AWARD OF DISTINCTION
Paula McKinney, Fiber/Leather, Turner 19
Caleb Barnaby, Jewelry, Degas 6
Christina Smith, Drawing, Rodin 18
Russell Grace, Photography, Picasso 30
Robin Kittleson, Glass, Rodin 4
AWARD OF EXCELLENCE
Don & Serena David, Jewelry, O'Keeffe 5
Brooks Barrow, Sculpture, Turner 12
James Offeman, Drawing, Turner 18
Mike Brown, Painting, Rodin 20
Teresa Merriman, Mixed Media, Turner 7
AWARD OF HONOR
Melissa Dominiak, Painting, Picasso 10
Aaron Lynn, Drawing, Epstein 1
Michael Bond, Printmaking/Graphics, Warhol 6
Matthew Hatala, Wood, Picasso 17
Tim Peters, Ceramics, Picasso 18
AWARD OF MERIT
Linda McAdams, Printmaking/Graphics, Rockwell 4
Athlone Clarke, Mixed Media, Miro 14
Annette Hammer, Painting, Darby 1
Julie Jerman-Melka, Jewelry, Picasso 42
William Ortman, Glass, Miro 11
JUDGES' AWARD
Jessica Ladd, Painting, Picasso 40
Jeri Vitello, Fiber/Leather, Epstein 5
Charles Gatewood, Painting, Picasso 20
Aaron Hequembourg, Mixed Media, Renoir 3
Craig Roderick, Photography, Rockwell 7
GGAF International Artist Esmeraldo Abalde on WUWF
Posted October 30, 2019
Sandra Averhart talks to the 2019 Great Gulfcoast Arts Festival Invited International Artist Esmeraldo Abalde from the Philippines.
2019 Poster Design Selected
Posted September 13, 2019
The 2019 Festival poster is based on a painting by Emily Woodson, an illustrator, graphic designer, and painter living in Pace, Florida. She has a BFA in Illustration Kansas City Art Institute. Emily is part of the marketing team at Levin Rinke Realty.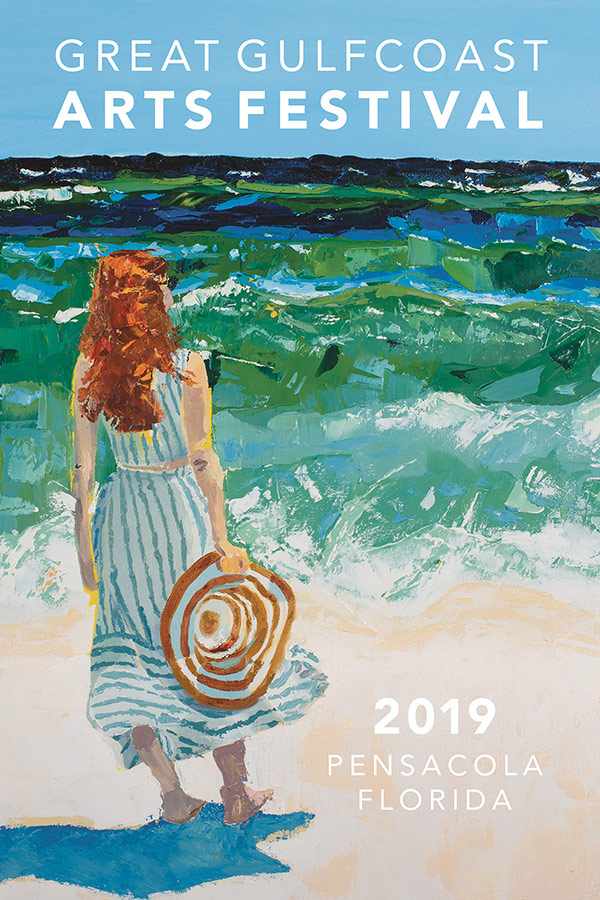 Artist's Statement:
My grandmother was an artist who fell in love with the Gulf coast. I grew up watching her paint incredible seascapes and every year, we went to the Great Gulfcoast Arts Festival together. She inspired me to further my creative skills at the Kansas City Art Institute where I graduated with my BFA in Illustration. I enjoyed every moment in KC but I simply couldn't live landlocked. Returning home with a passion for Pensacola and design, I've had the wonderful opportunity to be a member of the marketing team for Levin Rinke Realty.

In her final days, my grandmother said to me "I should have painted more" and I took that to heart. When she passed away earlier this year, I started doing plein air paintings of the shoreline that has captivated my family for generations. Every year she would tell me to enter this poster contest. I know she's looking down proudly to see that I finally did and my work was chosen to represent the festival we love!
The design is turned into a limited-edition poster, t-shirts, and other items which will be available for sale at the festival. The poster and shirts have become local collector's items. The only way to get them is at the Festival.
2019 Invited International Artist: Esmeraldo Abalde
Posted August 19, 2019
The 2019 Invited International Artist is Esmeraldo Abalde, an artist from Cagayan de Oro City, Philippines. His style is influenced by his experiences, culture and the world around him. He paints a variety of subjects from representational to abstract, to express his deeper appreciation of the beauty around him.
Great Gulfcoast Arts Festival ranked #9 by Sunshine Magazine
Posted August 07, 2019
The Great Gulfcoast Arts Festival ranked #9 in the Sunshine Artist magazine Best Art Shows list. Each year this Wisconsin-based magazine announces their 200 best art shows based on the categories of Fine Art & Design and Classic & Contemporary Crafts. This year, for the first time, Great Gulfcoast Arts Fest broke into the top ten in the Fine Art & Design category.
The publication uses a weighted system to select the 200 best shows. Each artist participating in a show can list up to 10 of their most successful 2018 shows, based on their total sales at each show. The top shows were selected based on the number of ballots they appeared on, as well as the total score they earned based on artists' reported sales at the show.
Each show that makes the Sunshine Artist list has proven itself a successful showcase for many artists and craftspeople. Making the Best Art Show list honors the dedication of management teams who pour so much effort into attracting patrons to each event. It also highlights the recruiting and coordinating needed to give artists a venue where they can profitably display their art to an appreciative audience.
2019 Emerging Artists Announced
Posted May 23, 2019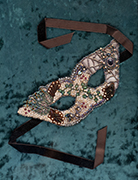 A bead artist and a painter have been chosen as the 2019 Great Gulf Coast Emerging Artists this year. Crystal King of Pensacola describes herself as a jewelry designer and beadwork artist primarily working in bead embroidery and bead weaving using glass seed beads, gemstones, and crystals. Robert Uniacke, also of Pensacola, is a painter, whose work is inspired by local area animals such as sea turtles, crabs, fish, pelicans, and herons.
The two artists will share a booth on O'Keeffe Alley at this year's Great Gulfcoast Arts Festival, Nov. 1-3.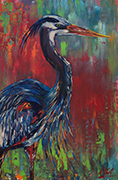 This is the fourth year for GGAF's Emerging Artists program. The program is designed to introduce new artists to the art festival scene. Each year, two artists from the Escambia/Santa Rosa County area are chosen to participate. GGAF waives their booth fee and provides the booth that they will share.
The two Emerging Artists also are required to make at least one presentation about their art at a school in either Escambia or Santa Rosa County.