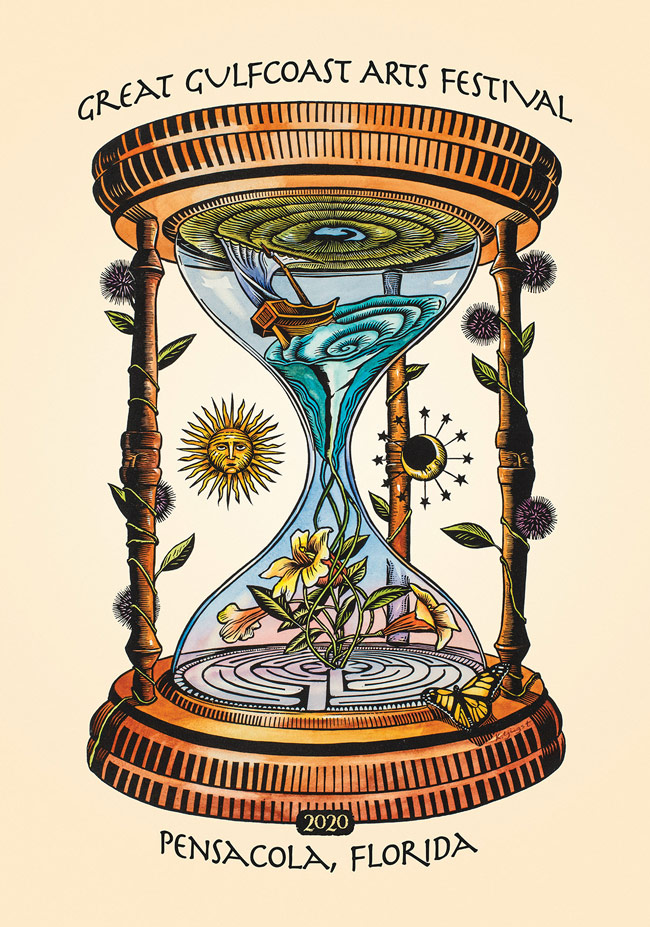 2020 GGAF Poster
With the cancellation of this year's Great Gulfcoast Arts Festival due to COVID-19, the Festival Committee invited local artist Kreg Yingst to create a poster for 2020 in his original woodcut print design. We hope his work will capture some of the feelings of 2020 and become a positive memento for this unique year. Festival posters have become a local collector's item and are available online this year only.
This limited-edition of 250 posters are each signed and numbered by the artist. Read more about Kreg's ideas behind the artwork and about Kreg.
COVID-19 Forces Cancellation of 2020 Great Gulfcoast Arts Festival
It is with deep sadness and heavy hearts that we announce the cancellation of this year's Great Gulfcoast Arts Festival. The decision to cancel the Festival is a tough one, but with COVID-19 cases on the rise, the health and safety of arts patrons, volunteers, artists, sponsors, vendors, and festival participants must be our top priority. The 48th annual Great Gulfcoast Arts Festival was scheduled for November 6, 7, and 8.
The committee has looked at every possible option to continue safely, but it's simply not viable to hold the Festival we love safely in the foreseeable situation.
Since its beginning in 1973, the GGAF has been canceled only once before — in 2004, when Hurricane Ivan devastated the Pensacola area five weeks before the Festival was to be held.
We hope you will join us when the Great Gulfcoast Arts Festival returns on November 5, 6, and 7, 2021, at Seville Square, Fountain Park, Bartram Park, and Museum Plaza in Downtown Pensacola. In the meantime, consider looking through the 2019 Artists Directory and showing them some support.
---
DETAILS
Nov. 5, 6, & 7, 2021
Location: Seville Square, Pensacola, Florida
Hours: 9am - 5pm on Friday and Saturday, 9am – 4pm on Sunday
Children's Festival: Saturday & Sunday 10am – 4pm.
Admission to the festival is free. Pets are not allowed at the Festival. More Details...
The Great Gulfcoast Arts Festival is one of the best-regarded, most popular arts festivals in the United States. The three-day, juried art show draws more than 200 of the nation's best painters, potters, sculptors, jewelers, graphic artists, craftsmen and other artists. The Festival is ranked #9 in the nation by Sunshine Artist Magazine.
Live musicians hit the right notes from the Main Stage with sounds ranging from bluegrass to Cajun and blues to jazz and classical.
Performing companies, dance schools, community groups, and area folk groups have their time to shine.
Craft artists demonstrate traditional arts, crafts and trades, including blacksmithing, engraving, spinning, weaving and other skills in the Heritage Arts Area.
Children become artists at the Children's Arts Festival with numerous hands-on art activities. All children's art activities are free, fun, and geared toward children toddler age and older. The Student Art Show showcases the talents of both private and public school students of Escambia and Santa Rosa Counties. Over 2,000 pieces of art from elementary, middle and high school students will be on display.
From traditional treats at the Heritage Festival to local favorites and regional festival fare, there are delicious dining and drink choices for every taste at the Festival!