2019 Emerging Artists Announced
Posted May 23, 2019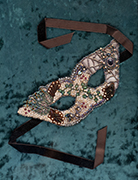 A bead artist and a painter have been chosen as the 2019 Great Gulf Coast Emerging Artists this year. Crystal King of Pensacola describes herself as a jewelry designer and beadwork artist primarily working in bead embroidery and bead weaving using glass seed beads, gemstones, and crystals. Robert Uniacke, also of Pensacola, is a painter, whose work is inspired by local area animals such as sea turtles, crabs, fish, pelicans, and herons.
The two artists will share a booth on O'Keeffe Alley at this year's Great Gulfcoast Arts Festival, Nov. 1-3.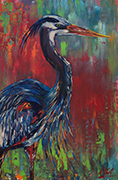 This is the fourth year for GGAF's Emerging Artists program. The program is designed to introduce new artists to the art festival scene. Each year, two artists from the Escambia/Santa Rosa County area are chosen to participate. GGAF waives their booth fee and provides the booth that they will share.
The two Emerging Artists also are required to make at least one presentation about their art at a school in either Escambia or Santa Rosa County.
It is with deep sadness and heavy hearts that we announce the cancellation of this year's Great Gulfcoast Arts Festival. The decision to cancel the Festival is a tough one, but with COVID-19 cases on the rise, the health and safety of arts patrons, volunteers, artists, sponsors, vendors, and festival participants must be our top priority.
The winners of the 2020 GGAF Children's Poster Contest have been announced. Prizes will be awarded November 7, 2:00, at the Children's Stage in Bartram Park. The contest was open to Escambia and Santa Rosa county children ages 4 – 11. This year's theme is "Home Sweet Home."
The Festival selected Lara Sophie Benjamin, a painter from Nicosia, Cyprus, as this year's Invited International Artist. However, due to the uncertainties around the COVID-19 pandemic, we've decided to postpone Lara's visit until the 2021 festival. We hope to see her then.
Best of Show goes to Don McWhorter, Ceramics. Find his booth at Picasso 29. See the complete list of award winners…
Sandra Averhart talks to the 2019 Great Gulfcoast Arts Festival Invited International Artist Esmeraldo Abalde from the Philippines.
The 2019 Festival poster is based on a painting by Emily Woodson, an illustrator, graphic designer, and painter living in Pace, Florida. She has a BFA in Illustration Kansas City Art Institute. Emily is part of the marketing team at Levin Rinke Realty.
The 2019 Invited International Artist is Esmeraldo Abalde, an artist from Cagayan de Oro City, Philippines. His style is influenced by his experiences, culture and the world around him. He paints a variety of subjects from representational to abstract, to express his deeper appreciation of the beauty around him.
The Great Gulfcoast Arts Festival ranked #9 in the Sunshine Artist magazine Best Art Shows list. Each year this Wisconsin-based magazine announces their 200 best art shows based on the categories of Fine Art & Design and Classic & Contemporary Crafts. This year, for the first time, Great Gulfcoast Arts Fest broke into the top ten in the Fine Art & Design category.